Excellent Starting
conditions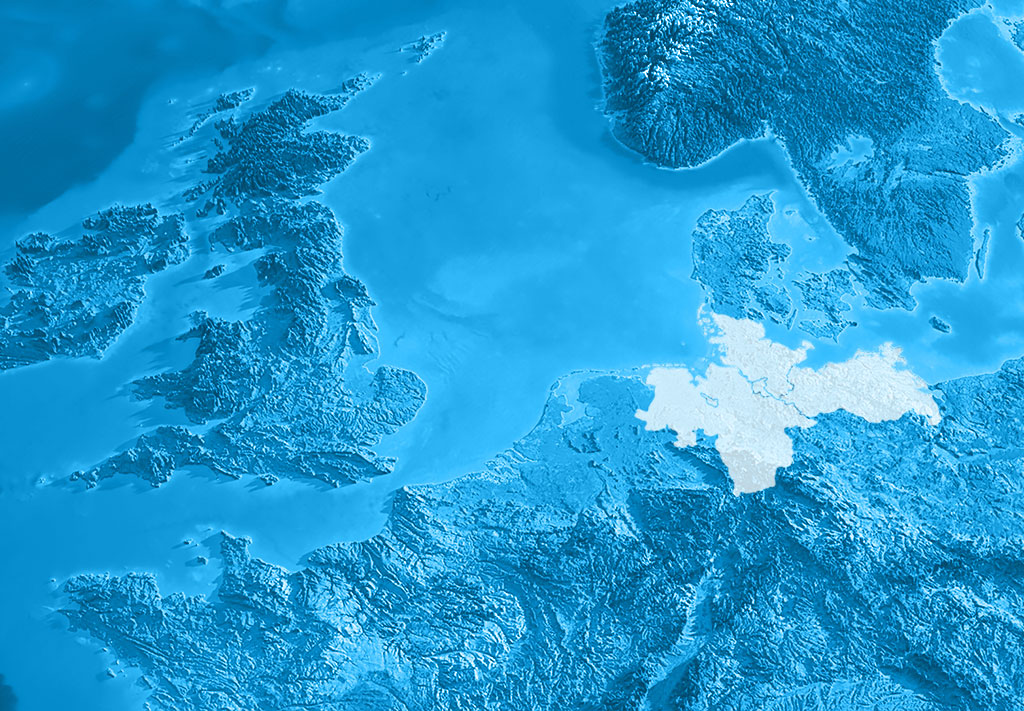 A POWERFUL REGION
According to the OECD, Northern Germany is particularly well-suited for the development of a green hydrogen economy, which is set to be established here by 2035. The region has unique locational advantages for the production of renewable energies and a large potential for the purchase of green hydrogen, especially among the local industrial companies. At the same time, the five federal states combine a high degree of experience and expertise in the field of sustainable technologies and energies as well as a high-performance infrastructure. They are trailblazers in Germany in the field of wind energy and have played a major role in shaping technical progress in this area. The knowledge gained in this way will now be applied to the production and commercial use of green hydrogen in cooperation with partners from industry, science, associations and politics.
Benefits at a glance
On the Way to a green hydrogen economy
Northern Germany is one of the most important future regions for green hydrogen in Europe. There are numerous reasons why your company should come to Northern Germany. Below are just a few:
Driver of the
Energy Transition

For a long time now, the northern German states have held top positions in Europe with regard to renewable energy and are one of the drivers of the energy turnaround.
expanding the
electrolysis capacity

As early as 2025, at least 500 megawatts of electrolysis capacity will have been installed for the production of green hydrogen. By 2030, the capacity is set to increase to at least five gigawatts and thus by a factor of 10 (source: Northern German Hydrogen Strategy).
A total of 27 projects in Northern Germany are on the list to receive government funding under the "IPCEI Hydrogen" (Important Projects of Common European Interest). The Federal Ministry of Economics and Technology and the Federal Ministry of Transport have presented 62 large-scale hydrogen projects across Germany. Taking into account the objectives of the European Commission, the "IPCEI Hydrogen" is intended to boost hydrogen technologies and systems along the entire value chain.
INDUSTRIAL USERS
FROM KEY INDUSTRIES

Numerous key industries have a strong interest in purchasing green hydrogen – from the steel, chemical, pharmaceutical or automotive industries through to aircraft or shipbuilding, medical technology, food production and agriculture. Key players from all industries are located in the different regions of Northern Germany.
seaports and
Import terminals

The northern German states have an excellent import infrastructure with more than a dozen seaports and import terminals that intend to expand their capacities for the import of hydrogen.
Natural Storage and
existing Gas Grids

Northern Germany offers the best conditions for intermediate storage and transport with geological underground formations such as storage caverns and an existing natural gas grid infrastructure, which will be further expanded and converted into a hydrogen pipeline in the short term and in line with demand.
Strong Players
in close proximity
Several hundred companies are involved in the Northern German hydrogen strategy: global players such as Siemens, Shell, Total, ArcelorMittal, Aurubis, Alstom, Continental, Salzgitter AG, Linde, VW, Vattenfall, MAN and EWE as well as innovative start-ups and specialists such as GP Joule, HYPION or APEX Energy.
Established
Hydrogen Networks

Research into hydrogen technologies has been underway in Northern Germany for 30 years. Initiatives at the state level have long since established important networks that drive the topic forward economically, scientifically and politically.
Europe's
Thinking Factory
Northern Germany is a leader in hydrogen research and now boasts a high density of excellent scientific institutions. At present, within a radius of 200 kilometres, scientists are working at two dozen universities and universities of applied sciences, more than 20 Fraunhofer institutes, Helmholtz centres, the energy research associations and the DLR.
Regulatory Sandboxes
for the future

In six regulatory sandboxes, funded by the Federal Government, companies, research institutions, universities and start-ups are working on future-oriented hydrogen projects on key topics such as the decarbonisation of industry, sector coupling or electrolysis.